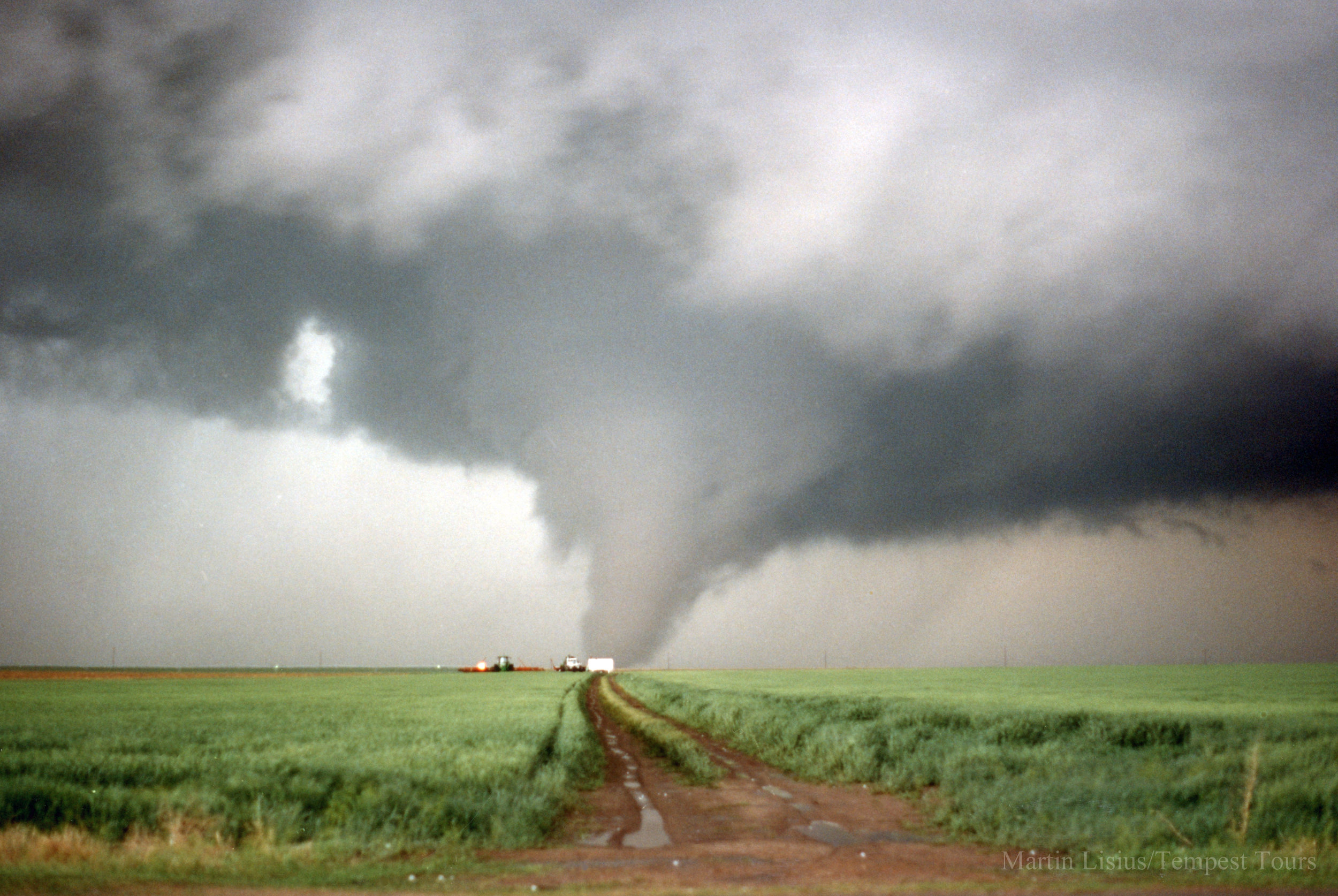 I got up early on the morning of May 5, 1993 to prepare for a possible chase. After analyzing data, it appeared that the Texas and Oklahoma Panhandles would be the best region for supercell thunderstorms and tornadoes later in the day.

I left my home in Arlington, Texas and drove to Norman, Oklahoma to pick up my chase partner and friend Dr. Herbert Fiala. Herbert had just flown in from Vienna Austria for his annual storm chasing vacation in Tornado Alley. He is a meteorologist and works as a forecaster for the Austrian National Weather Service. Together, we make up a unique and unusually successful chase team. Somehow, my knowledge of Plains storms combined with Herbert's "nose" for tornadoes either makes us a highly skilled duo or just a very lucky one. For whatever reason, this day would prove to be the usual dramatic day for us.

We departed Central Oklahoma westbound on Interstate 40 and debated whether to continue west toward the Central Texas Panhandle or veer to the Northwest and head for the Oklahoma Panhandle. We decided on the latter since that region was closer to the best upper-level dynamics. When we exited the Interstate to initiate our new heading, we noticed a group of chasers continuing westbound. Where were they going? Did they know something we didn't? We had to stick with our instincts and stay on track.

By afternoon, we had encountered a low, dark cloud deck in Northwest Oklahoma. This was a sign of good, low-level moisture in the area. Unfortunately, it killed our visibility making it difficult to spot storms that might be going up in the distance. As we entered the Northeast Texas Panhandle near Perryton, the cloud deck broke and a thunderstorm anvil appeared like a giant ghost in the distance. AM radio was alive with static from nearby electrical activity and announced that a thunderstorm warning had been issued for Hansford County just to our west. As we closed in on the huge supercell, we began to hear reports of tornadoes near highway 208 southeast of Guymon, Oklahoma.

As soon as we arrived to the edge of the storm base, between Guymon and Hardesty, a small, slender and elegant tornado spun up and crossed Highway 3 in front of us. The tornado dissipated after about two minutes and we headed north on Highway 94 toward Hooker, Oklahoma. This huge supercell was racing north at nearly 40 mph, so we had to keep pace.

Just moments later, the storm put down a very large tornado just to our west. This twister was nearly a mile wide and was probably a violent class tornado. Several towns appeared to be in it's path further north!

Herbert and I drove through Hooker where citizens stood outside watching with amazement as this incredible storm grazed the outskirts of their town. We continued north into Kansas where the storm spawned yet another large tornado. We noticed that the road map indicated that Hugoton, with a population of 3,100 residents, was apparently in the path of this monster! After following the tornado for almost an hour, it finally dissipated just southwest of Moscow, Kansas. Fortunately, it had just missed Hugoton by a few miles.

The May 5, 1993 supercell was an amazing storm for numerous reasons. First, it produced several large, long-track tornadoes almost continuously for more than two hours and through three states! Second, it was moving north. Tornadic supercells can, an occasionally do, move north. But typically, a storm of this magnitude will move in an easterly direction such as northeast, east or southeast which often improves storm relative shear and tornadic production. Finally, the tornadoes miraculously missed several towns in the area, tracking entirely in open country. If a powerful storm like this passed through a major Tornado Alley metropolitan area such as the Dallas-Ft. Worth Metroplex, hundreds and possibly thousands could be killed!

Herbert and I were thankful that the storm had remained on the open prairie providing us and local citizens with a dramatic and unforgettable show.

Photo copyright Martin Lisius.