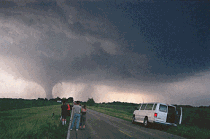 Dean Cosgrove and I caught the tornado near Seward, Nebraska, on Wednesday for the Tempest Tours gang. The tornado was large and slow moving, and we had great contrast and were able to set up camcorders on tripods and watch it from 3-4 miles away!

On the day before (Tuesday), we targeted northeast Nebraska, and were on a severe storm near Laurel, NE, in Cedar County. Unfortunately, the cap was (apparently) too strong, and the storm died. With an hour of daylight left, we blasted north on I-29 from Sioux City (shades of the Spencer, SD chase) to intercept a tornado-warned storm near Mitchell, SD, moving east. We caught it at dusk near Marion, SD, in Turner County, in time to see a decent wall cloud. A column of dust was barely apparent beneath a funnel cloud, so we believe that we witnessed a weak tornado. It dissipated soon afterwards, but the storm gave us a nice light show.

We stayed overnight at Yankton, SD. Forecast charts favored SE and SC Nebraska later on Wednesday, so we went south down U.S. 81. On the way I read some NWS discussions out of Hastings, NE, which were extremely encouraging, with wording like "significant event with large and violent tornadoes possible." We stopped in Columbus, NE, for lunch. This was about two-thirds of the way to our target area, and I was beginning to receive some e-mails from fellow chasers which contradicted my forecast. Some chasers favored SE SD, some liked NE KS.....and some thought that the cap might again be too strong in SE and SC Nebraska.

We ate lunch and then found the public library in downtown Columbus. I sat and looked at weather data on the Internet there for a little over two hours. I couldn't find any reason to dart back north or south along the front, which was stationary and running N-S just to our west. I also was not very optimistic about the severe weather prospects given the surface obs. There was just not a whole lot of convergence along the front, as winds to its east were close to due south, and winds to its west were about due north. Lowest pressures were up near Yankton, so I was concerned that the best backed flow might wind up in E SD again. The setup that Hastings had talked about was not developing as expected, and the afternoon discussion out of Hastings was backtracking a lot on their severe-weather wording. Omaha was concerned about the strong cap. SPC seemed to be favoring SD and KS. I thought that we might wind up with very little this day.

Martin Lisius called me a few times from the Belleville, KS, area, and he was coaxing me southward. The Beatrice winds were going a little SSE-erly, and Kansas was getting a Tornado Watch. Near Columbus, the stratocumulus were building into congestus and storm towers. I decided that we should hit the road, get a little east of the new towers, and then try to play the
tail-end cell, if there was one. I figured that I might as well keep going south, and, if I was going to bust, I might as well bust in my original forecast area between Red Cloud and Beatrice. E Nebraska finally got its Tornado box, after Kansas and South Dakota.

The winds were slightly east of due south as we watched a cell west of Schuyler (just east of Columbus). There were additional cells north and south of this one along the front, so I directed Dean to take us south along Hwy 15. We passed a few cells on our way south, and learned of a strong storm down near Geneva, Nebraska, moving northeast. This one looked good on radar, with nothing nearby to its south. So, we now had a tail-end cell (at least for the time being!), and it was an easy catch to our southwest. The cell still looked smallish and young as we set up just east of it near the Seward/Saline County line on U.S. 6. Soon, however, a smallish wall cloud and tail cloud developed.

The storm drifted northeastward and the lowerings grew in size. Strong rotation was not evident, but the updraft was getting that horse-shoe shape look to it. We needed to be closer to the northern part of the horseshoe, so we went through Milford and headed north towards Interstate 80. Now, a massive clear slot was evident, and good strong rotation was noticeable in the lowering just to its north! A cone-shaped funnel formed quickly, and a tornado touched down to our NNW, maybe five miles away. We crossed the Interstate (at exit 382) and continued north a couple of miles before stopping to set up. The tornado remained to our NNW, just west of our N-S road, for about six minutes. It changed from cone-shape to stovepipe to fat elephant-trunk.
This was a fabulously photogenic tornado, and we had no precipitation or winds to hassle us. Precipitation curtains were near the tornado, but contrast remained good until it drifted to our north. Rain wrapped in front of it and the tornado disappeared. We went north to get closer, but found some downed power lines across the road after going four miles. Trees were shredded to our northwest here, and the town of Seward was only a couple of miles to the WNW. Seward was very lucky on Wednesday, as apparently the tornado skirted by just to its south. The cell continued to the northeast and we could see some funnels and lowerings. If there was a tornado wrapped inside of the rain....we could not tell! The tornado event occurred between about 8:00 p.m. and 8:15 p.m.

Aside from the tornado, the storm seemed rather well-behaved. We had some decent inflow winds near Milford, but were never hit with any RFD winds of any consequence. There was not much lightning with the storm, especially while the tornado was on the ground. The storm weakened as it approached Lincoln, where we stopped for the night. A fantastic display of spider and crawler lightning entertained our tired and delighted tourists during the evening at Lincoln.

The Seward tornado was mostly over open country and farmland, but it did demolish one house. The entire structure was swept off of the foundation, and the tornado was rated alow-end F4. For more information on the Seward tornado, see the Omaha/Valley NWS website.