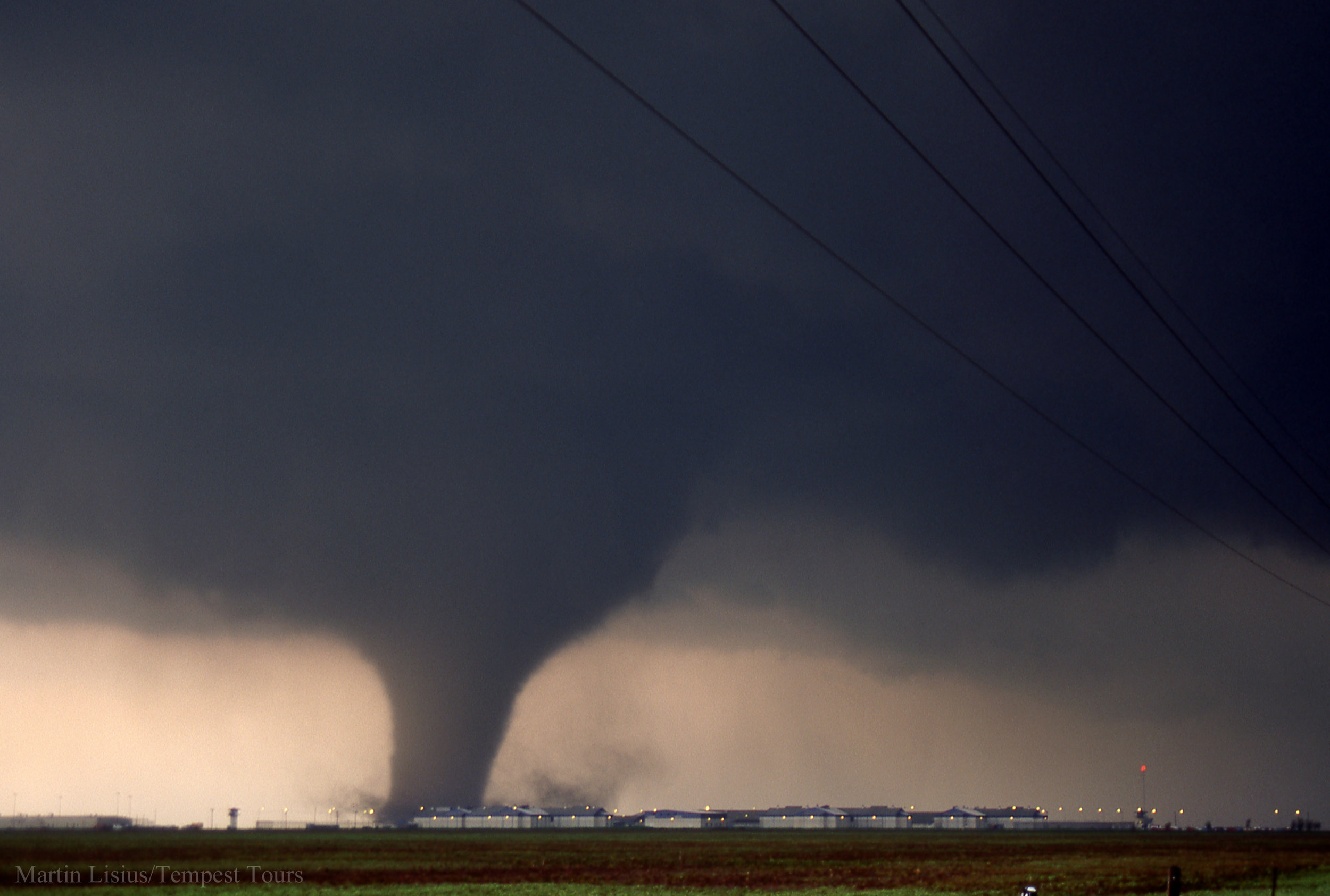 The Spring 1995 storm season had been a long and unusual one for me. I began chasing in March for fun and photography. Then, in mid-April I began shooting on the sequel to Chasing the Wind. Much of my time was consumed by photographing not only some incredible storms but also other chasers that would eventually appear in the documentary.

Mother Nature was very active across the Southern Plains all spring, especially in Texas. What was very strange was that she was producing dozens of supercells and few significant tornadoes for most of the season. Many supercells merely produced RITs "or radar indicated tornadoes. "By late May, I noted that there had not been much in the way of significant tornadic events or outbreaks" for traditional Tornado Alley states of Texas, Oklahoma and Kansas. I knew June had to bring tornadoes. But I thought that they would be in Kansas or Nebraska. I had no idea that TEXAS was about to experience a ten-day period of significant tornadoes. I was unable to make the event that occurred in the Dimmit/Friona areas on June 2. But on June 3, my wife Lorie and I rendezvoused with Alan Moller and Chuck Doswell in Lubbock to do three days of shooting for the documentary. On June 3, we followed a beast of a supercell from Turkey to Childress and experienced incredible inflow but could not confirm tornadic activity. On June 4, Sam Barricklow joined us and we watched a beautiful low-precip storm spiral up near Lamesa and spotted a brief tornado under the mesocyclone. The next day, June 5, we followed a prolific supercell from infancy, just northeast of Plainview, to tornadic maturity as it slid southeastward toward the town of South Plains. Our team saw several small tornadoes and low-contrast, often rain-wrapped larger twisters along the way. But only Al and Chuck were able to break through and see a large, high- contrast tornado within the storm complex. A few days of relative peace followed across Tornado Alley. And then, on June 8, Mother Nature went berserk!

I awakened early on June 8. The day before, my friend and fellow chaser, Herbert Fiala and I had seen something interesting in the progs. We were planning to chase West Central Kansas the next day. The next day was here but things had changed a lot over night. The early morning SELS discussion included a moderate risk for the Southern Plains and said, "parameters coming together for a severe weather episode during the next 36 hours...southeasterly H85 jet and southwesterly H5 jet becomes established by 09/00Z...suggest that supercell/tornado development is likely over parts of West Texas and Western Oklahoma. The National Weather Service in Amarillo had issued a moderate risk at 6:00AM for their area. They mentioned that a frontal boundary had moved further south than expected and stretched from west to east across Southeastern Colorado into Southern Kansas. And, that a dryline was located from just east of Clayton to just east of Clovis. They also mentioned that neither boundary was expected to move much further and that the warm moist air mass was "waiting for a triggering mechanism to set off the thunderstorms." Their risk statement continued with, "this is a potentially dangerous situation where the main threat from these storms will be damaging winds, large hail and a few tornadoes". At 6:35AM, Oklahoma City also issued a moderate risk saying that "the cap will continue to weaken during the day...particularly in Western Oklahoma and Western Parts of North Texas...low level wind fields are expected to shift and strengthen into a more favorable profile for tornado development".

At 7:00AM, I plotted a surface map for the risk area. Gage, Oklahoma was reporting fair skies, SSE winds at just over 10 knots, and a temperature of 74 over 72 dewpoint. Winds across the Red River Valley and Oklahoma were backed to the SE and ESE. Winds in SW Kansas were strong out of the northeast with cool temperatures (LBL: 63, DDC: 61 and GCK: 57). Winds at Clayton and Dalhart were WNW. Winds across the Southern Plains were basically pointing toward the northeast quadrant of the Texas Panhandle. I pulled down upper wind data that showed forecasted winds at 120 FL to be southwest at 40 knots later in the day across this area; FL340 forecasted winds to be WSW at 60 knots. By 8:00AM, I had circled the northeast Texas Panhandle as our initial target. I loaded my vehicle, departed Arlington, and headed to Norman to pick up Herbert who was staying with his wife and "Baby Wedge" at OU while in the States on his vacation from Austria.

As soon as I arrived in Norman, I briefed Herbert on the situation. His eyes began to grow brighter with anticipation. Who needs coffee with this much adrenaline? We headed west on Interstate 40 toward the Texas Panhandle. At around 3:00PM we arrived in Shamrock and had a sandwich at Subway.
Afterwards, we stood in the parking lot and stared at small towers going up just to our west and southwest. The one to our west formed a small, dark base. We headed toward it on the Interstate. After about ten miles, we noticed that it was a very minor, uninteresting towering cumulus. But, there was something poking its head out to our northwest, from behind these small towers. We traveled a few more miles to our west, and then we saw it! A rock-hard, mature updraft tower glimmered in the sun like a marble sculpture. Its anvil was hard with blue sky above. It was no more than 30 miles to our northwest! We exited the interstate at Alanreed and proceeded northward on Highway 291.

Along the way, we tuned in KGRO-AM Radio from Pampa. Broadcaster Darrell Sehorn was on the air reporting a tornado on the ground in or near Southwest Pampa from his mobile unit (Darrell did a great job by being the first media to warn the public about the tornado). As soon as we arrived on top of the Caprock near Lefors, we saw a beautiful, trunk-shaped tornado on the ground near Pampa.

We stopped 2 miles southeast of Pampa at 4:40PM and began photographing the twister as it moved across the western edge of the city. At 4:50PM, a small, intense tornado touched down about one mile to our NNW for approximately 30 seconds. This brief tornado's parent circulation persisted east of town while the Pampa tornado churned through the city. It would eventually spawn the larger tornado that passed near Hoover. Just a few minutes later, the Pampa twister began to exit the northern portions of town. At that time, we hopped into the Jeep and drove northeast to a location a few miles south of Hoover. There, we watched a new tornado begin to widen about 3 miles to our northwest and west of the prison. Just behind, or north of the prison, the tornado reached its widest form. It had become a large, violent frustum-shaped funnel slinging a wide debris cloud toward its rear flank. We shot additional video and stills and headed north to intercept the tornado. Our intentions were to stop about a mile short of its path and photograph it one last time as it crossed the county road we were on.

Unfortunately, the road dead-ended at the edge of a canyon two miles short of the twister. However, we were able to see the entire funnel from our high angle as it raked through the Red Deer Creek Valley below. We headed northeast up Highway 60 toward Miami with the tornado to our north still in the valley. On a hill south of Miami, we paused to watch the tornado become rain-wrapped to our west. At that moment, Al Moller and Chuck Doswell pulled up followed by Sam in his big red Ram Van. We stood on the hill watching a ghost-like funnel disappear in the rain. We all drove north to Miami in hopes of seeing more tornadoes from the storm. Herbert and I drove northwest toward Central Roberts County to watch a new supercell with a beautiful rain-free base rotate over the rolling prairie. As we watched, NWS in Amarillo issued a tornado warning for the storm. We looked to our southeast and could see the other big supercell in the sun near McLean. We pulled our hair out for about a minute trying to decide whether or not to go for that storm. We agreed that "one bird in hand is worth two in the bush," so to speak, and stayed on the Roberts County storm. That storm to the southeast produced several strong to violent tornadoes. Our storm just spun until we eventually got dizzy and left. We headed northeast and attempted to intercept the reported Allison "monster tornado" from the north. We encountered heavy hail and low visibility and turned around for safety reasons. We knew it would be tough. In my disappointment, Herbert said "when a man finds a gold mine, he stops digging." That Austrian saying meant we should be happy about the spectacular Pampa/Hoover storm we had seen just a few hours earlier and not worry about what we missed. After dark, we went back into Pampa to get gas and something to drink. Power was on and the town seemed to be doing fine although the western edge of the city was heavily damaged. The night was quiet and still in Pampa. It was difficult to believe, that just hours earlier, a violent Texas tornado was tearing through this sleepy little Panhandle town.

Photo copyright Martin Lisius.